September 20
th
, 1870: the cannons of the "brand new" Italian army fired the ancient Roman Walls and the Vatican Kingdom was conquered: Italy was finally unified. A new plan was laid out to make Rome a metropolis which could compete with London or Paris.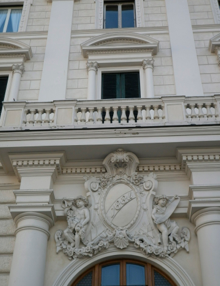 3 hours - walking tour

Porta Pia is one of the gates along the ancient Aurelian Walls and became particularly famous when, in September 20th 1870, a large portion of them was pulled down after a five hour long gunfire. Porta Pia is one of the latest architectural works of Michelangelo who conceived a sort of picturesque set of scenery as a terminal of the long, straight path coming from the Quirinale, the new mansion of the Popes.

The headquarter of the
Ministry of Economy and Finance
was the first public work commissioned to prove the solidity and the efficiency of the brand new State. The  architectural features of this building show the conservative mental habit aiming to emphasize the glorious past of Rome: a sort of New Renaissance that looks more academic and formal.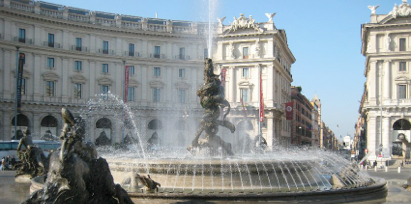 Piazza Esedra takes its name after the vast semicircular recess once part of the Baths of Diocletian whose ruins are still clearly visible on one side. The Art Nouveau Fountain of the Four Water Nimphs features in the middle of the square. Via Nazionale slopes down, unusually wide and straight, looking like a Parisian boulevard, sided by tall apartment buildings built to house the new class of wealthy bureaucrats.

King Umberto 1st tunnel was arranged to secure a new  and more efficient road network and provide a sumptuous access to the city centre (the old part of Rome)

Within thirty years, the former Renaissance – Baroque city gives way to a new town planning. The Esquilino Hill became the core of the renewal as visible in Piazza Vittorio, the largest square in Rome, and its entire neighbourhood. A chessboard layout, where large roads intersect perpendicularly or merge together towards main squares sided by elegant porticoes: a homage to Turin, the former capital, left by the Savoia royal family when they moved to Rome.